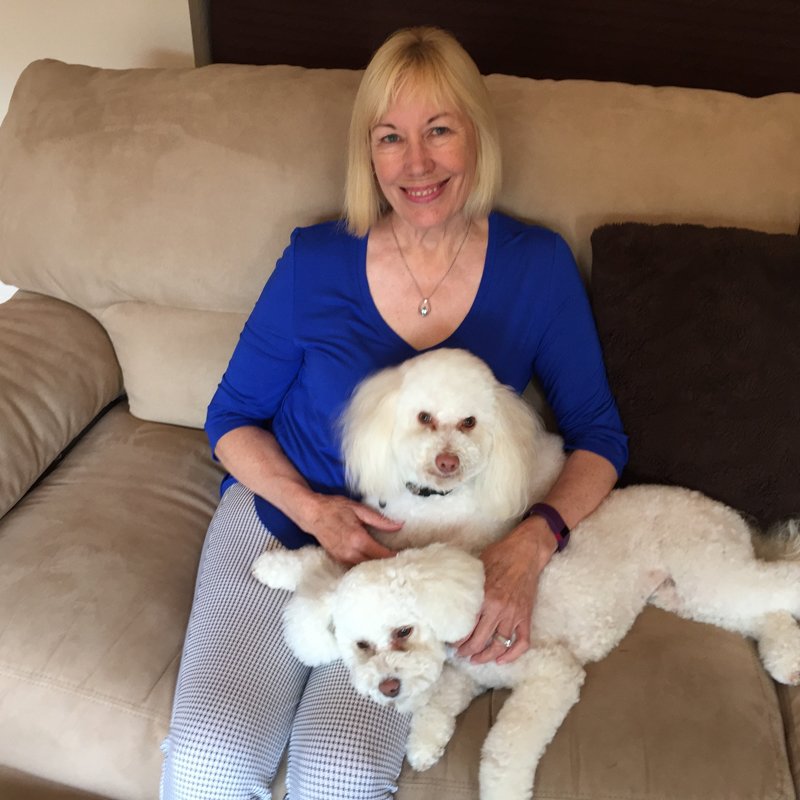 Cheryl with Henry & Mikki

Well Scents, Aromatherapy for Pets and Their People, was founded by Cheryl Beller in 2010. Cheryl has a lifelong interest in wellness and a lifelong love of animals, particularly dogs, horses and cats. After spending most of her professional career in the medical field, she began to explore alternative healing modalities in the 1990's. She was most impressed with the many levels of positive effects that people and their pets experience when exposed to essential oils and hydrosols in various delivery systems. Her interest developed into a passion to share this information so that others might benefit from this enjoyable, effective wellness option. 
Cheryl enlisted the expertise and insights of various animal practitioners, eventually developing properly diluted, targeted essential oil or hydrosol based products which address most of the emotional, psychological, and behavioral needs of dogs, horses, and cats specifically. Additional issues can be addressed with custom blends. These blends are specifically formulated so that they can safely be used on a daily basis. They offer natural solutions to everyday concerns and challenges. 
All people, including pet owners and guardians, can benefit from aromatherapy blends. Well Scents offers "people" blends which provide stress relief, anxiety reduction, energy support, and sleep assistance. Well Scents also provides all natural, toxin-free products for Body and Home Care. Everything that we can do to decrease our "toxic load" each day helps us to maintain and create wellness.
Cheryl also offers hands-on blending classes at an office that she is sharing with  Adrienne Herman, Dog Therapist in Carmel. You will be assisted in creating blends for yourself, your family or friends, and your pets. She also hosts an Aroma Bar at the office - San Carlos at 8th Avenue in Carmel (diagonally across the street from Sunset Center). At the Aroma Bar you can have a simple custom blend created just for you on the spot. Or, you can consult with Cheryl to create a complex blend for physical, mental, and emotional challenges that you would like to address. The Aroma Bar is open from 12-4 on selected Saturdays throughout the year. You can check the monthly Aroma Bar schedule and the class schedule at cherylbeller.com. Finally, you can request an Aroma Bar Party for groups of 4 to 8 at the office or locally at your home.
Classes, parties and consultations are available by appointment in addition to during class times and Aroma Bar hours.

Please go to cherylbeller.com for more detailed information!

At Well Scents, our mission is to offer safe and effective custom and specialty aromatherapy blends for your pets and for you, expert advice, and personalized service. We welcome your questions, and appreciate the opportunity to assist you. 

In addition to her MBA, Cheryl has completed Level II Certification in Aromatherapy Training and is currently enrolled in a Level III Clinical Aromatherapy Program. She is a member of the National Association of Holistic Aromatherapists.
Cheryl and her husband Craig live on the Monterey Peninsula of California with their dogs, Henry and Mikki.